Top 10 places to visit as you plan your next Dubai vacation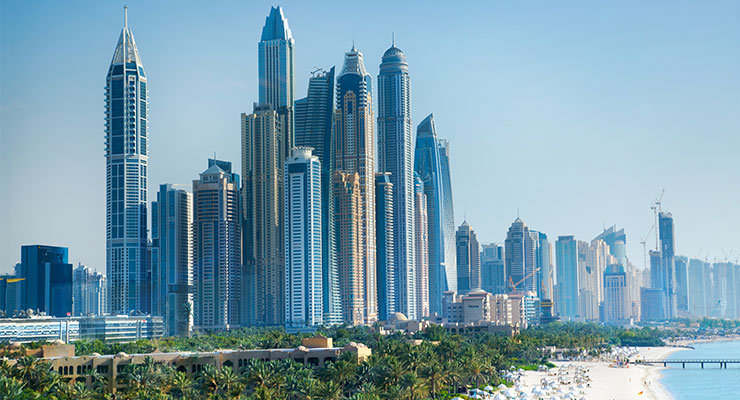 Dubai is one of the most popular tourist destinations across the world today. From shopping to adventure, ultra-modern architecture, luxury hotels and more, Dubai most definitely should be on top of your travel itinerary if you haven't visited this beauty yet.
For all the variety and rich experiences Dubai has to offer, it's difficult to narrow down just 10 places to visit while in Dubai, but here are the current top favorites among tourists globally. So whether you're already in Dubai or intend to head there soon, here are top 10 places you must visit.
1. Burj Khalifa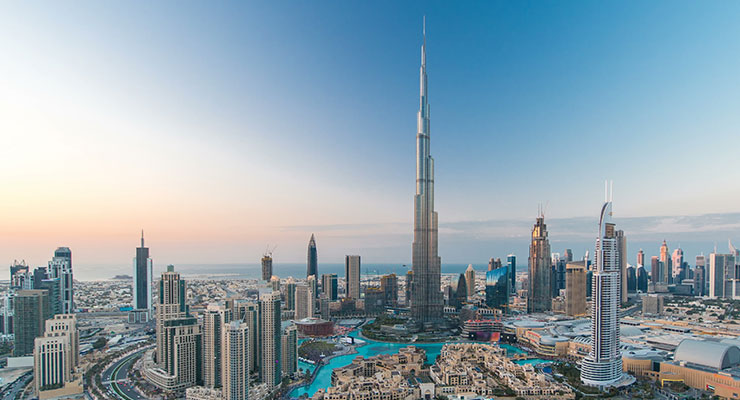 Burj Khalifa is a 828-metres standing world's tallest tower. From shopping, to adventure, to business meetings, this is one space for all kinds. True to its majesty this marvel is not for the faint hearted, if you're really up for some adventure, head to the roof top restaurant, At.Mosphere at the 122nd floor at 442m(1,450ft). The views from up there will just blow your mind. It's the perfect space for photographers who'd love to capture the beautiful marina and the gorgeous skyscrapers of Dubai.
2. The Dubai Mall
Right next to the Burj Khalifa is The Dubai Mall, the 2nd largest mall in the world by total area of 5,400,000 sq ft with 1,200+ shops and close to about 150 restaurants. The Dubai mall attracts around 60 to 70 million visitors each year. An entire day isn't enough to do justice to this place. The mall is also a big favorite among the kids due to the indoor theme park, ice rink, a gigantic waterfall, an outdoor fountain and a giant underwater zoo and aquarium.
3. Palm Jumeirah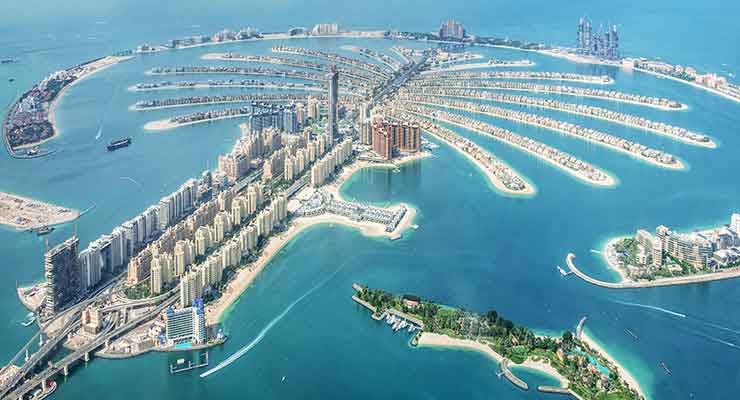 Palm Jumeriah is a man-made architectural marvel that is built in the shape of a palm tree. It is part of a larger series called the palm islands and has come to be one of Dubai's most sought for tourist spots that is home to some luxurious resorts and fine dining restaurants. It is an ideal location to soak up the sun along with some fun water sports activities. The Jumeirah beach also has a host of children parks and picnic spots. Just make sure to come in early as the beach area gets heavily crowded towards the course of the day.
4. Burj Al Arab
Burj Al Arab is a 7 star luxury hotel that stands on an artificial island 280m (920ft) from the Jumeirah Beach. It is the world's third tallest hotel that is connected to the mainland by a private curving bridge. This place is a must visit for the finest intercontinental delicacies with the best hospitality that you'll ever come across. From a chauffeur-driven Rolls-Royce, helicopter trips, private beach access, a breathtaking terrace with pools and cabanas, to some of the world's best dining venues the list is endless.
5. Dubai Opera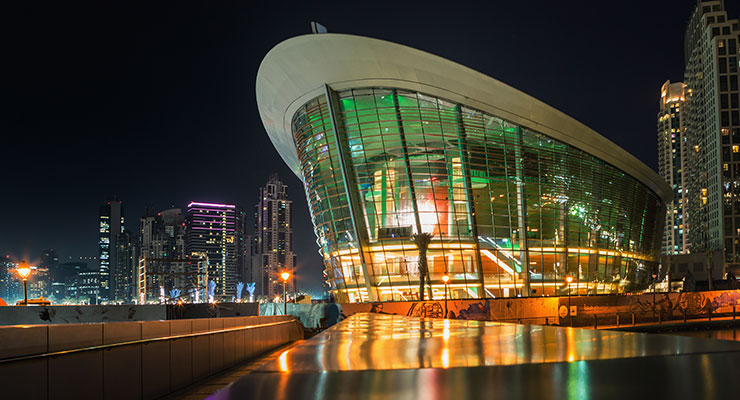 The Dubai opera is a one of a kind architectural beauty that can seat up close to about 2000 art lovers at one go. It is one of Dubai's new landmarks with its highly-contemporary glass and steel walls through the waterfront, built to resemble the curves of a traditional dhow. It is high on the entertainment quotient all throughout the year, where one can enjoy fun time with friends and family through opera shows, ballet, comedy nights, concerts and also a host of classical instrument plays too. You also have a rooftop eatery service with a wide range of scrumptious intercontinental cuisine to make the most of your fun musical adventure.
6. Ski Dubai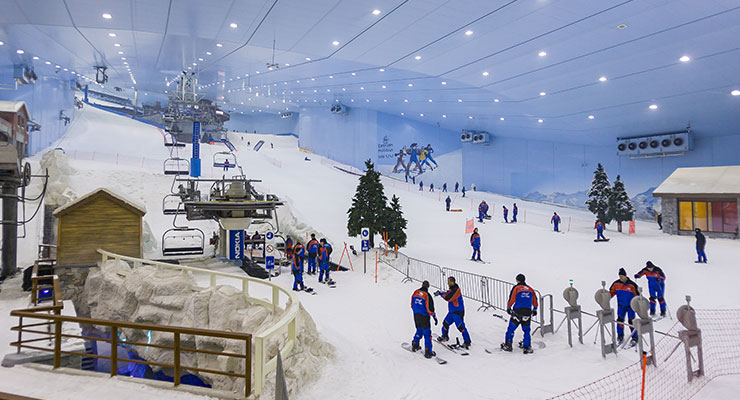 Ski Dubai is Middle East's first indoor ski center that has five ski runs, the longest in this region of more than 1,300 feet with a 197-foot vertical drop. It also has the world's first indoor back run, freestyle snowboard zone, a chairlift and an exclusive room for toboggan runs and snowball fights. It's a hot favorite among kids for the skiing lessons and a fun penguin. Surreal is one word to describe this place. When in Dubai, Ski Dubai is a must visit.
7. Wild Wadi Waterpark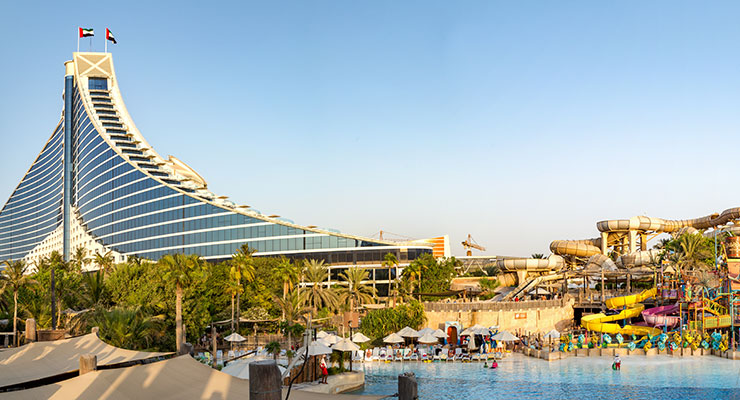 Adjoining the foot of the Burj Al Arab is the captivating Wild Wadi Waterpark, a collection of 30 water rides and play areas designed for people from all age groups. The entire park is designed around Juha, a character often referred in the Arabian folklore and featured predominately in the wild wadi park. There are a wide series of options to choose from for all types of travelers; adventure junkies can slide through the 100-foot-tall tandem water slides, and for those seeking relaxation can glide along the lazy river. There are series of safe and fun rides for children and a one of a kind simulated surfing ride for surfing enthusiasts.
8. Deira Souk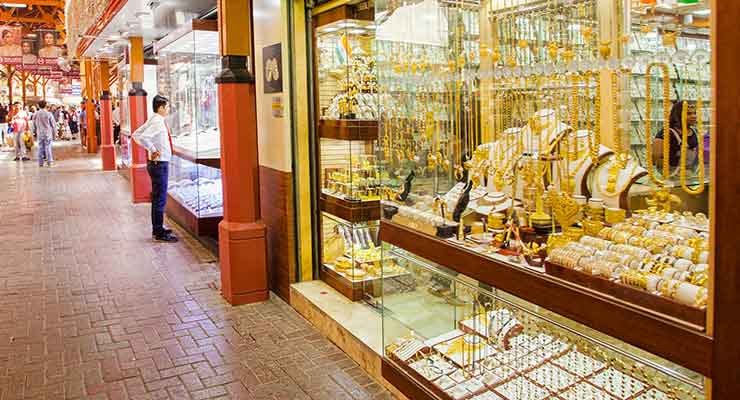 The Gold Souk located on Dubai's south creek on the banks of Deira is an extravaganza of glitz and glamour. One of the most renowned gold jewelry trading centers in the world, the gold souk has a host of contemporary jewelry that fancies women across the globe. Not just gold, the souk sells platinum, diamonds and silver as well and you can be rest assured about being offered the best quality and price.
9. The Dubai Camel Safari In The Arabian Desert
Live the authentic Arabian life through the Camel Safari experience. This fun activity is most certainly one of the best experiences while in Dubai. Besides the soothing and relaxed camel rides, you can also opt to hit the dunes in a 4 wheeler which is equally exhilarating. This activity with your family can make a great memory.
10. Luxury Yacht Charter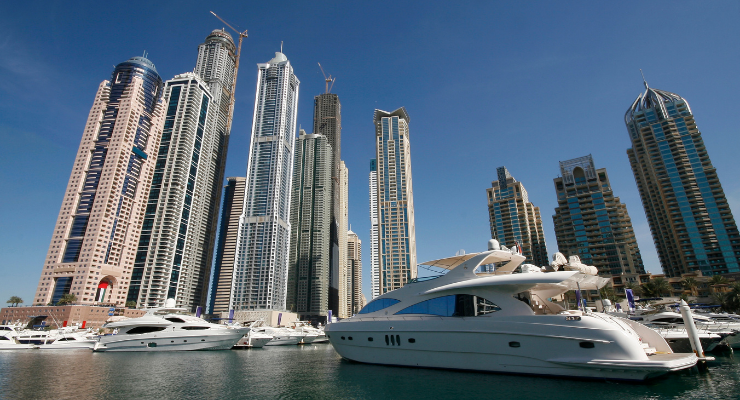 Whether you're looking for a cozy candle-lit dinner or celebrating a fun overnight reunion party, the Champion Yachts Dubai is the place to head to. They have a host of luxury yacht charters to suit every mood and occasion. The yachts can also be custom-set to fit your special themed event. From the best of hospitality to the best of intercontinental delicacies, this experience is a must have while in Dubai.
Dubai is a land filled with relentless fun and adventure. Build memories that last a life time. Plan your Dubai holiday right away.