How Renting a Yacht in Dubai Benefits you? Find out here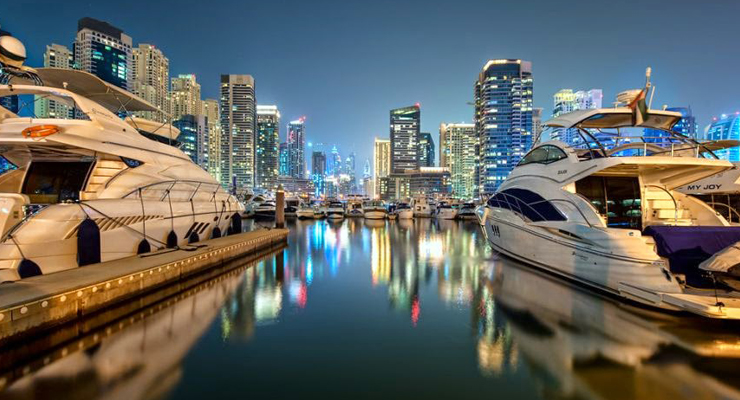 Before we start listing out the benefits of renting a yacht in Dubai, let's talk about how a yacht experience would give you memories that you would cherish all your life. 😊
When you plan a trip to Dubai, you expect to explore every corner of Dubai & capture the sights forever in your memories. It also counts the same when we talk about yacht rentals in Dubai. Yacht companies have evolved yacht charters as a go-to option for entertainment by providing luxurious yacht services.
Yachting in Dubai has taken the limelight as much as the marvelous Burj Khalifa, Burj Al Arab, etc.
The most amazing thing about choosing for a yacht stay during the Dubai trip is solely to relax after the hustle-bustle on the Dubai roads, a long day at the Dubai Mall, or if you are out with your kids.
Rejoicing on a breezy private deck would not only soothe your body but also give you a pleasant feel sailing over the Gulf waters. To make an easy escape from daily life, yacht stays can add a lot to your trip.
Here's why you should rent a yacht in Dubai! 😀
Benefits of Renting a Yacht in Dubai
Stretch of Dubai City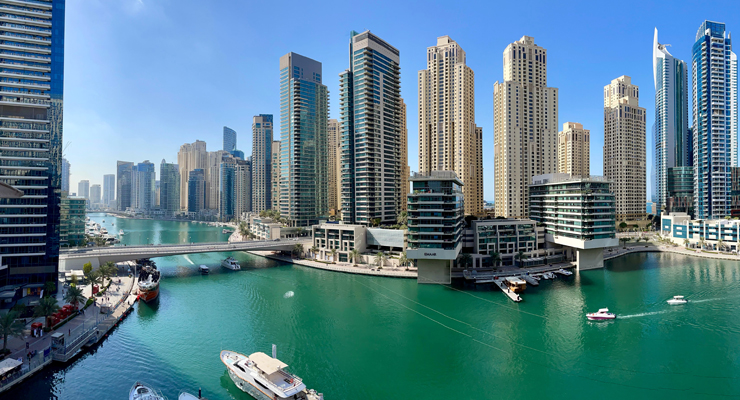 When you take a walk on the sidewalks in Dubai, you get a different feel looking at the tall buildings from so near. But when you gaze at the city slightly afar from the Gulf waters, you can only feel the cool breeze and look upon the astounding stretch of the skyscrapers while sipping on your favorite wine!
The serenity of Dubai can be experienced by taking a tour around the city on a private yacht and eyeing the surreal views from different angles which would be definitely worth your yacht stay. A Dubai tour on a yacht would be a lifetime experience.
An array of Arabian food & drinks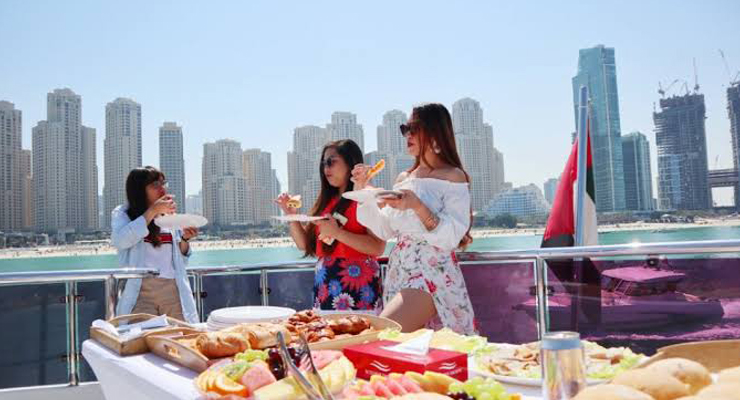 When we say a "luxurious" stay on a yacht in Dubai, we mean it. When you board the yacht, you board to a land of lip-smacking cuisines around. Yachts in Dubai are famous for their great food and drinks along with a spread of BBQ set up on deck to ensure the guests make the most out of it.
The chefs appointed are the best in the city & bring you a table full of delicious Arabian cuisine that would make you drool for more! What's more? You can also customize your menu at Champion Yachts, which you have to let us know at your time of booking.
Spend time with your loved ones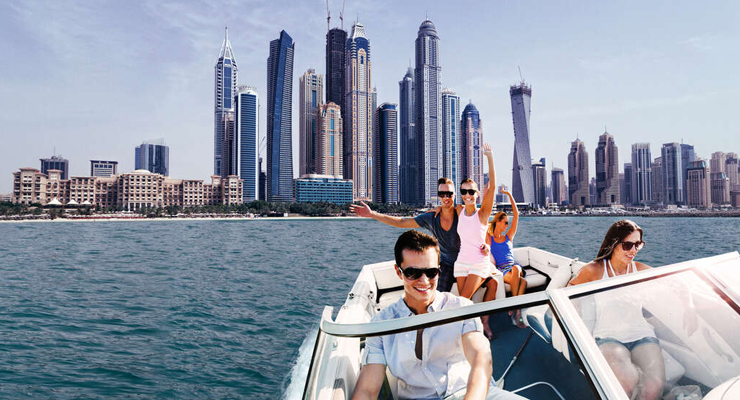 A yacht stay in Dubai literally goes well when we say "need an escape". Our captain would take you far-far away from the city chaos, and you get to chill with your loved ones or friends without any distractions.
Privacy is very well-satisfied during the yacht stay as it is only you & your people around & no one to disturb! The best way to spend time, heal & relax is to book a yacht rental in Dubai and make the most of your stay on the beautiful Gulf waters.
Making unforgettable memories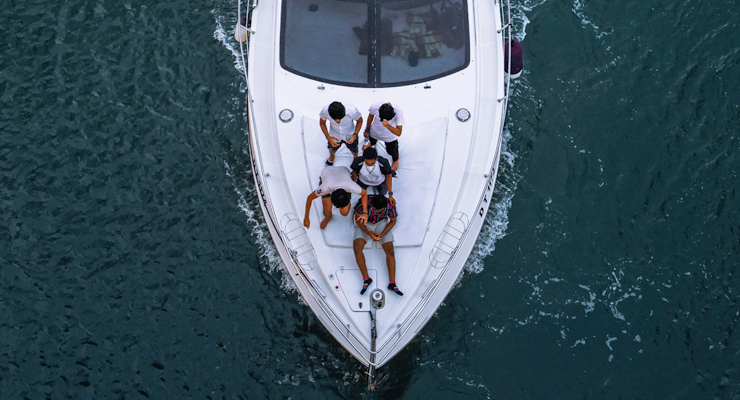 Life-long happy memories on a yacht are a desire for everyone to make. And Champion Yachts will rightfully fulfill that in no time. Our yacht rental has been delivering premium yacht services for more than a decade and leaving customers happy only to come back again!
Yes, all the time that you spend on Champion Yachts, you would make memories for life. The ambiance, the food, the luxury, the exotic drinks, the view of Dubai city, the blue waters, would make up the best days of your life every time you look back on your Dubai trip.
Thrilling Water Sports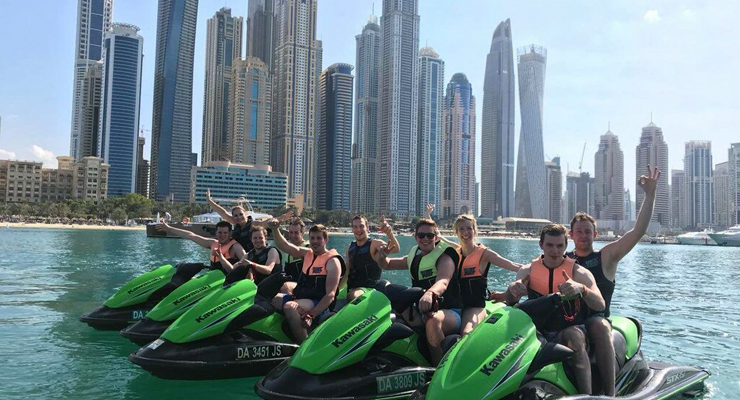 Yes, there's more to it. Yacht stays not only revolve around the city lights or the view of the city, the food, BBQ, open deck, and Arabian exotic drinks, they also provide adventure water sports too.
If you are someone who wishes to have an adrenaline rush, you can try water adventures like jet skiing, paragliding, scuba-diving, etc. to explore the extremities of Dubai water life & beat the heat of Dubai's summer.
Let's go Fishing
How about some low-key fun? For people who love to go on a fishing escapade with deep-sea fishing or seashore fishing then fishing yachts are the best thing to rent.
When you rent a yacht for fishing, you are sorted with food, lodging, and fishing equipment as well. Whereas, if you wish to arrange everything on your own, you might face problems with a fishing license as it is compulsory to have when you want to go fishing in Dubai.
How can you rent a yacht in Dubai?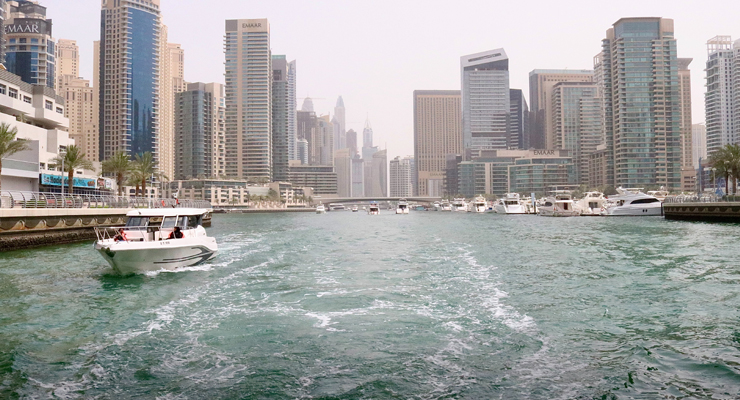 You will find many yacht companies in Dubai Marina. For renting a yacht, verify the yacht by visiting their website or visiting in person, and book the best one according to your requirement.
You can also Google; "yacht companies near me", "best yacht companies in Dubai", "yacht rentals in Dubai", "book a yacht in Dubai", etc. to compare charges and yacht services among the companies and go for the best one.
Champion Yachts can help you with renting a yacht in Dubai with the best services like dinner cruises, thrilling watersports, and fishing services for a comfortable and enjoyable yacht stay.
We provide customized yacht packages fitted to your requirements. Add services like parties or get-togethers, celebrations like birthdays, anniversaries, or book for corporate events like promotions or team meetings to have a nice time with your employees and colleagues.
Champion Yachts is there for you for all your cravings for a luxury yacht trip in Dubai. Book with us today! ❤️
🌏: www.championyachts.ae | 📞: +971 55 470 3501 | 📧: info@championyachts.ae