Top Places for Romantic Dinner in Dubai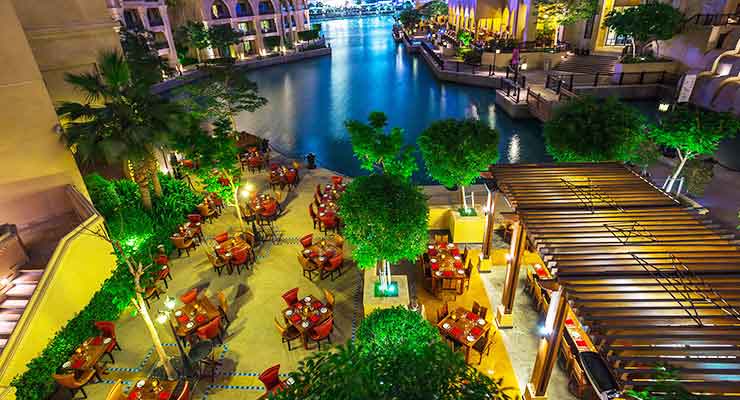 Love is hard to find and so are exciting and romantic dinner  places in any part of the world- except for Paris, though!
Dubai, however, is now known for its most romantic dining experience to enjoy with your loved ones, or go on a romantic dinner date on a cruise.
Celebrate love, enjoy personal trips, honeymoons, and cherish the best days of your lives by falling in love with Dubai dinner cruise experience. Food becomes special when you're with your loved ones. Enjoy breath-taking view of Dubai, especially with a candle light dinner.
Click the most beautiful 'Kodak' memories and keep the love in a photograph. Have some love time and check out these top places for romantic dinner in Dubai which are known across the globe.
1. Champion Yachts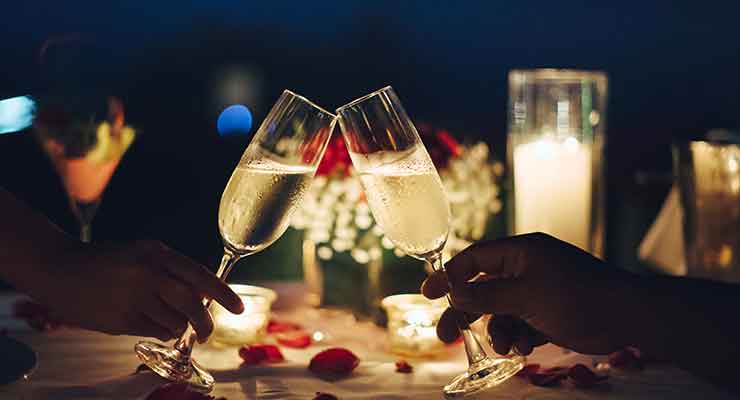 Rent a yacht in Dubai and enjoy a romantic candle light dinner in Dubai by the waters. Champion Yachts is known to make visits in Dubai unforgettable. They not only have mesmerizing cruises and yachts, your taste buds will also enjoy a culinary extravaganza, enjoy drinks and bar food with the best views of Dubai.
Want to enjoy a floating dining experience in Dubai? Champion Yachts is the one! Champion Yachts is known to be the best yacht rental brand in UAE and well- recognized across nations.
Opening Hours: 12 Noon to 12 Midnight
Must Try: Everything you can!
Price: starting from 300 AED
2. House Off Curry- The Beach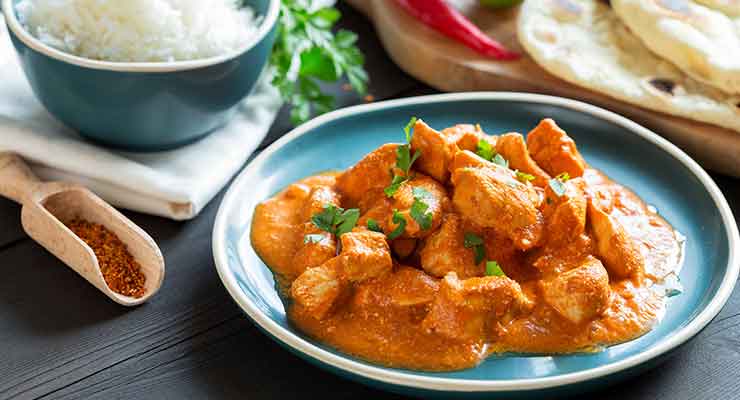 If you want to try out Indian cuisines, this restaurant is the one! Check out India's rustic charm here, experience and fall in love all over again. This location is perfect for couples who are very open for change or love trying new things! The interiors are very cheeky and this place is popular for its ambiance as well as food!
Location: Unit 2301, The Beach, Jumeirah Beach Residence (JBR), Dubai
Opening hours: 12 Noon to 12 Midnight
Must-try: Butter Chicken, Mango Lassi, Mutton Roganjosh, Kulfi
Price: INR 3,700 or USD 60 for two people.
3. Pierchic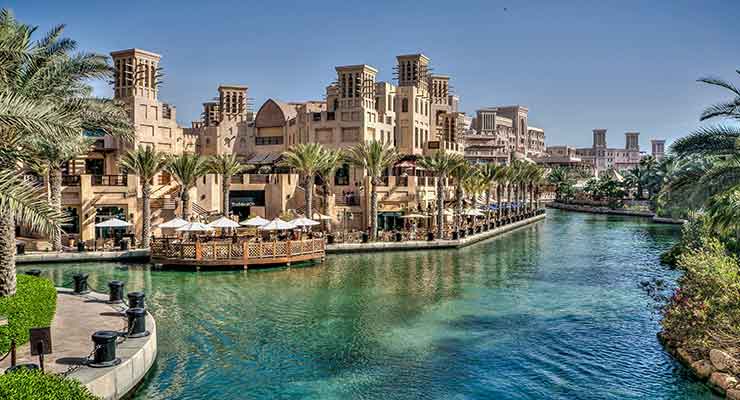 This restaurant is for the chic yet plush ones and has one of the best dining experiences however is very very expensive. It is a part of the 5-star Hotel, Al Qasr Dubai and has a stunning view of the waters of the Arabian Gulf. The cuisine is modern European with top- notch seafood, food designed by three Michelin Starred French Chef, Laurent Gras, surely satisfying your tastebuds.
Location: Al Qasr at Madinat Jumeirah – Dubai – United Arab Emirates
Opening hours: 12:30 pm to 03:00 pm and 6:00 pm to 11:00 pm
Must-try: Seafood Risotto, Scallops, Creme Brulee
Price: INR 10, 500 or USD 165 for two people.
4. The Shore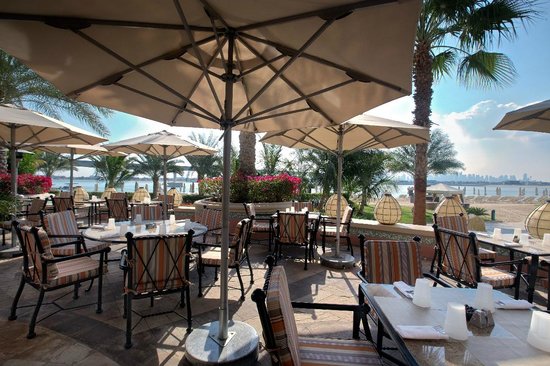 This restaurant is for the cozy ones who love the beach. Indulge in lovely Mexican food by the Atlantis beach and Dubai Marina's view too! The dining somehow reminds all of Hawaii with a cocktail by your side and yum food by the other!
Location: Royal Pool Deck, Atlantis the Palm, Palm Jumeirah, Dubai
Opening hours: 09:00 am to 07:00 pm
Must-try: Mexican delicacies such as Nachos and Quesadillas
Price: INR 6,200 or USD 95 for two people.
5. Level 43 Sky Lounge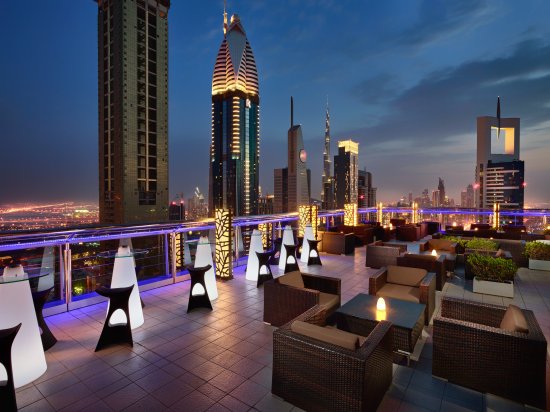 One of the best lounges across the world is this beaut. It's an open air resto-bar, best for romantic dining experiences. Located in the prestigious Sheraton hotel, this location offers a beautiful view of the Jumeriah coastline. The perfect time to visit this lounge- during sunset.
Location: Level 43, Four Points by Sheraton, Sheikh Zayed Road – Dubai – United Arab Emirates
Opening hours: 02:00 pm to 02:00 am
Must-try: Jalapeno poppers, lamb chops, curly fries, mocktails.
Price: INR 7,000 or USD 110 for two people.
6. 360 degree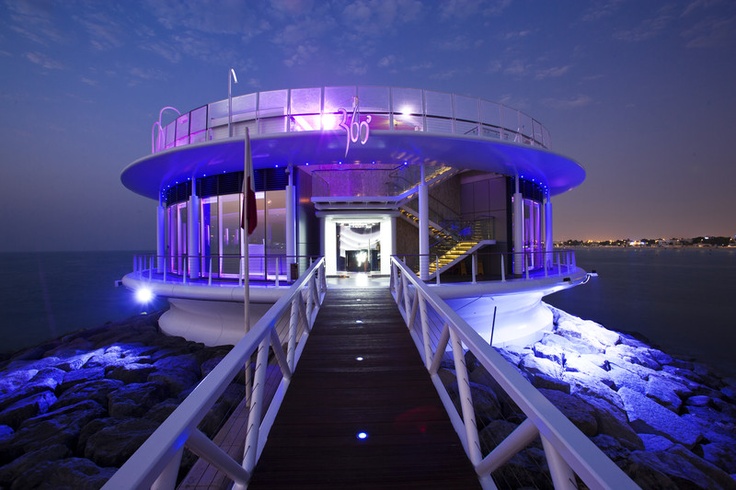 Just as the name suggests, the view is also very much of 360 degree. Check out the amazing all-around view of the ocean right from the top- just the right location for night clubbing, bachelor party in Dubai, romantic dinners and more.
Location: Jumeirah Beach Hotel, near Jumeirah Rd, end of the Marina Walkway – Dubai – United Arab Emirates.
Opening hours: 05:00 pm to 03:00 am
Must-try: 360 mix platter and flavours of hookah
Price: INR 6,000 or USD 95 for two people.
7. Luxury dinner in desert
Dining in the desert is the most exciting luxury dinner experience, right after cruise dinners in Dubai. It's like having a dessert in a desert! Guests are taken to the location by cars like Mercedes, Jaguar etc. The entire activity will be supervised by a trained guide who will ensure that you have the best of your private moments along with enjoying the real flavours of desert life.
Duration: Afternoon until early evening.
Price: The approximate price starts from 1,500 AED per couple
Dubai is exotic, it's lovely and the location for all kinds of people- irrespective f the culture we belong from, the kind of preferences we have, Dubai has room for all. Neither is it too expensive, nor does it have any downfalls!
Live life, king size for a week or two- rent a yacht in Dubai, go on a desert safari, check out the Underwater Zoo and ensure you have a couple of weeks in hand if you want to check out Dubai from all perspectives.