An alluring Luxury Cruise in Dubai with Royal Champion Yachts
Dubai yacht rentals, offered by Royal Champion Yachts are one of the best ways to enjoy the surreal sunsets over the Persian Gulf, and to explore the majestic city from all sides!
What could make the Trip even more special; off course a Luxury Cruise with amenities of a 5 star resort!
For that, much needed vacation or just to bask in the lavish, a luxury cruise in Dubai with Royal Champion Yachts will be pitch perfect!
Dubai is famous for its whole range of luxury cruises and complimentary amenities that can't be offered anywhere else. The best way to describe a luxury cruise in Dubai is "one of its kinds". It's synonymous with the fact that everything in Dubai radiates that regal ambience and grandeur as an uncanny yet pleasant essence.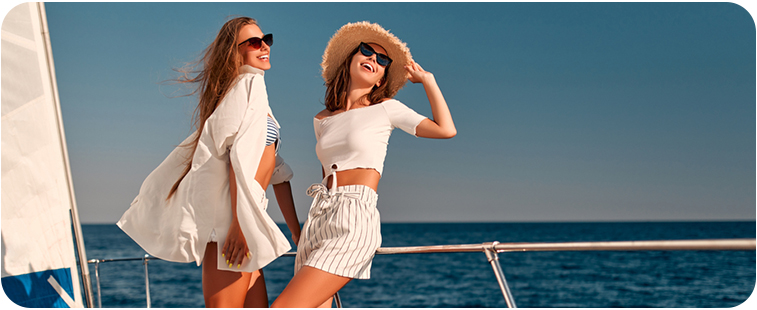 Have some rendezvous on luxury cruises offered by Royal Champion Yachts
The Luxury cruise also offers the most elite shelf of liquors along with the best diners. There will be a long list of cuisines that you can savor while your trip. This also signifies the excellence showed by the world class chefs who can present a range of epicurean delicacies. When it comes to wine you will have a surfeit of choices including French, Italian and Californian clarets. For someone going for a hard stuff, will find choices between bourbon, Irish and everything else.
But that's not all!
Luxury cruises offered also have some of the world class marine furnishing with organic mattresses, zero gravity sofas, memory foam chairs and off course high quality sunbeds. It will also have cruise cabins stuffed with all high tech gadgets. You will able to enjoy several modes of entertainment while peeking towards the blue waters through sea view windows!
But that's not all!
"A cruise is a Luxury incarnate and it invariably has everything i.e. open air diners, Jacuzzis and everything else that you can and you can't think off."
Such trips will be a pleasant surprise for your loved ones as they will never experience so much of everything at one place. It might be the perfect getaway that no one will ever forget. Even party lovers can just start a party with glittering dance floors and DJs playing on the deck.
The icing on the cake is the affordable prices offered by us! It will be 5 star services at almost basic prices. We believe in fostering relationships more than business and hence our team works relentlessly to create packages which will put a smile on your face!
Royal Champion Yachts
We Combine leisure with luxury in our luxury cruise packages in Dubai and offer multiple amenities like never before. The wonders of Dubai await you, for the sail across Dubai Sea, and enjoying this magical city from a completely different perspective.
Enjoy sightseeing; sometimes all by yourself or with your loved ones on- board, and live the night with the best luxury rooms, moonlight and picture perfect moments!
Royal Champion Yachts is here with unbeatable offers, for the perfect getaway with friends and family. We offer cruisesin Dubai along the beautiful coastline with views of, the world Island, Atlantis, The Palm Jumeriah, Burj Al Arab and others.
Our Arrangements
Enjoy a stunning cruise in our luxury yacht rental available for rent readily. Be it a lovely dinner, best music, ethnic food, or anything else you name it; we will be at your disposal right away at the best rates. Our job is to cater all kinds of clients and we're pretty good with it. Being a leading yacht rental brand in Dubai, we're known for many packages such as, corporate gatherings, photo shoots, film shootings, weddings, birthday celebrations and many others!